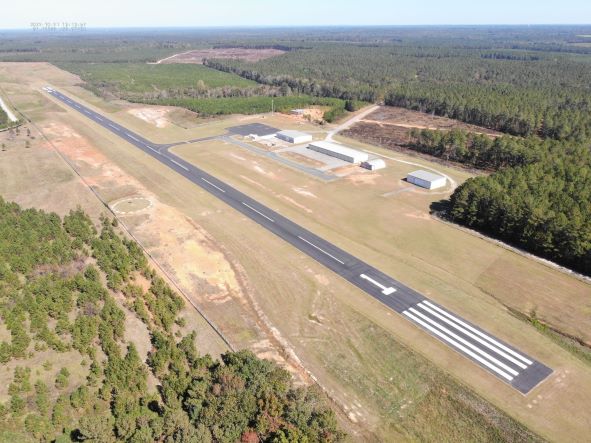 ---
The Saluda County Airport is conveniently located adjacent to Persimmon Hill Golf Course.  If you would like to fly in to play a round of golf and have a delicious meal at the Persimmon Hill Grill, please contact Mr. Phil Hodgens, Saluda Sky Aviation, at 803-307-1452 to arrange transportation from the airport to the golf course.
---
The Saluda County Airport is located at 180 Saluda Airport Road, Saluda, South Carolina; 6 miles south of the Town of Saluda, 14.5 miles west of the Town of Batesburg-Leesville, 6.25 miles north of the Town of Johnston and approximately 6 miles south of US Highway 378.
The Airport has a single runway. The runway is 3,200 feet long, 60 feet wide and constructed of asphalt. The weight bearing capacity of the runway is published to be 11,300 pounds on single gear.
Airport lighting consist of a rotating beacon which operates from dusk until dawn. The runway lighting system, designated as "Medium Intensity Runway Lights" (MIRL) consist of runway edge and threshold lights.
A Precision Approach Path Indicator (PAPI) system serves at the only Ground Based Navigational aid.
Six tie-down positions are available and eight t-hangars. 100LL (AVGAS) is available 24 hours a day via a self-serve credit card reader system.

LINKS
South Carolina Aeronautics Commission
South Carolina Aviation Association